Custom high-quality laminated paper bags for your clothing brand, gifts, boutiques, shopping and more.
Our paper packaging is luxurious and sophisticated. You can choose laminated paper in various thicknesses (157g-700g). Besides, the bag surface can be matte or gloss finishes. Also there are many paper bag handles to choose.
These perfect laminated paper bags will provide unrivaled quality packaging for your products, so that you can customize to any size and logo.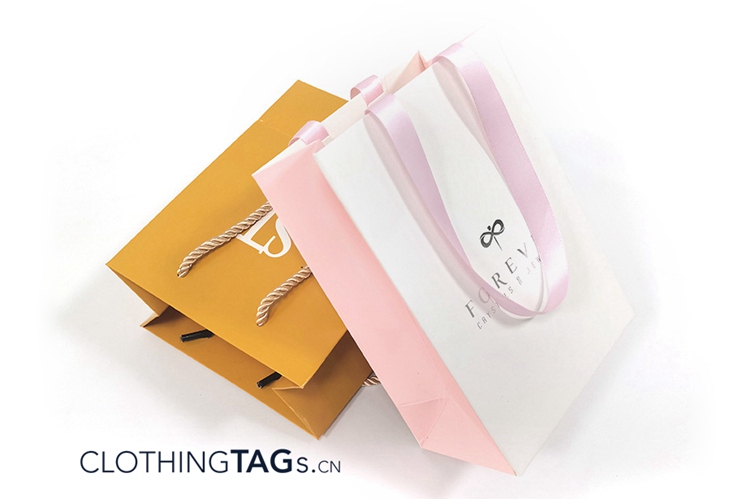 Why use laminated paper bags
A layer of plastic film is attached to the surface of the laminated paper bag, which can be gloss or matt. There are also some special laminated papers with different color appearances, such as gold, silver, iridescent, etc.
In addition to providing a different appearance, the additional plastic layer can also make the paper bag moisture-proof; protect the surface from scratches; increase the tear strength, abrasion resistance and load-bearing of the paper bag, making the paper bag more durable and better quality.
Different handle ropes
Premium laminated paper bag, matching the best handle ropes, to add the luxury feeling to your paper bag.
Paper bags handle usually are ribbon, grosgrain ribbon, three-stranded rope, cotton rope, flax rope, paper handle(brown paper bags handle), etc. You can also choose other special handle.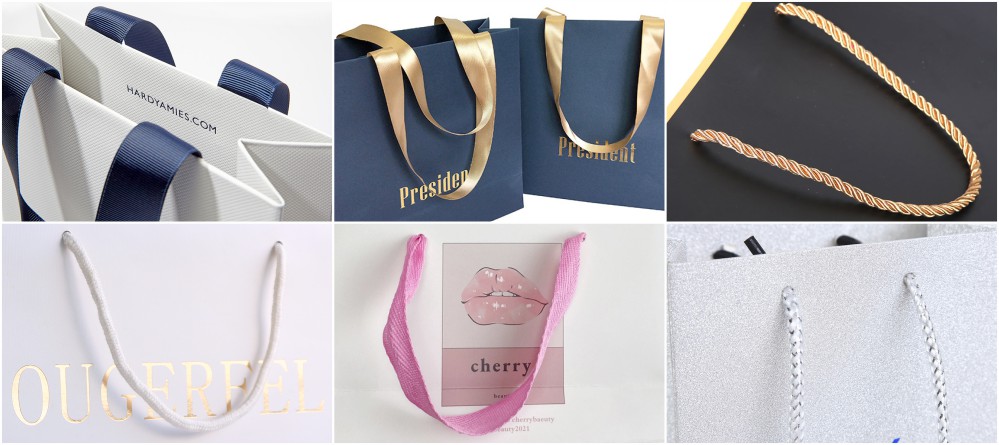 Laminated Paper Bag Logo
Custom laminated paper bags can print any color and logo to make your paper bag designs special.
Shiny Foil Logo (gold, silver, black, rose gold, rainbow, etc.). Engraved and Embossed logo, UV logo, or choose a unique color according to the Pantone card or print the picture.
If you don't have a design we can provide free design service.
Details:
Paper bags material: gray board, art paper, Kraft paper, white/black card (cannot print complex colors, can hot stamping gold or silver etc.), special paper, etc. Paper thickness is generally 157g-700g. (You can provide samples or pictures; we will provide suggestions according to your needs)
Paper bags handle: cotton rope, three-strand rope, nylon rope, ribbon, etc.
Printing on paper bags: color printing, hot stamping gold or silver, frosted, UV, Film (bright, matte), adding texture, emboss and engrave, eyelet, etc.
Size of paper bags: according to your needs
Color: according to your needs
Structure: according to your needs
As a laminated paper bags manufacturer and supplier, we can consistently manufacture products that meet your requirements. Besides, we custom paper bags for global brands, including the USA, Australia, Canada, UK, France, South Africa, Saudi Arabia, New Zealand, Ireland, etc.
We at the same time meet the customization needs of large and small businesses, and provide high quality, low price, and low minimum quantity orders.
Our custom-made paper bags are made of durable and environmentally-friendly materials that is biodegradable and recyclable; they are bonded with strong glue and can be reused many times before recycling (the handle will not fall off, the bag will not crack during normal use, our bags are sturdy and durable without smell). Our professional service and quality will surely impress you.
We have comprehensive pre-sales and after-sales services. If you have any questions, you can contact us via email or WhatsApp, and we will actively solve the problem for you.
Your satisfaction is very important. If you have any dissatisfaction with our paper bags, please send us an email and we will solve it as soon as possible (if there are problems with the materials or technique, we can remake the product or refund)