Custom printed sturdy Tyvek labels for your clothing, furniture, pillows, rugs, jewelry, and more. Sewn, adhesive, hang tags (Metal eyelets can be added), or custom rolls?
We can produce Tyvek labels in any size, color, and shape, consistently making products that meet your requirements.
Your product may need to withstand harsh environments, need to be waterproof, quick-drying or tear-resistant. Then the inexpensive Tyvek label are a good choice.
Although Tyvek labels look like paper, they are extremely tough. Tyvek is a synthetic flashspun high-density polyethylene fibers, which are waterproof and non-absorbent, remain intact after multiple washes, and have quick-drying properties.
Its construction is resistant to punctures, tears and abrasions. The weight and thickness are as thin as A4 printing paper. If you need something thicker, you can also choose Jacron labels, which has the same paper look as Tyvek, but is also extremely tough and waterproof.
The name "Tyvek" is a registered trademark of the American multinational chemical company DuPont, so it is also called the DuPont labels.
Tyvek Sew In Labels
Can be easily sewn on fabric, we support any shape and label fold types.
Tyvek Label Rolls
Tyvek label can be customized into rolls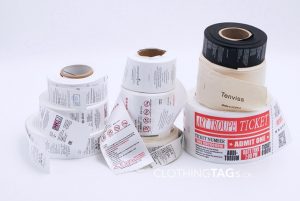 Tyvek Hang Tags
Tyvek material can also be made into hang tags, with a unique paper texture, and you can choose to add metal eyelets. Matching a unique Hang Tag String is a good hang tag ideas.
Tyvek Adhesive Labels
Add adhesive behind the Tyvek label to stick to smooth surfaces and it's permanent.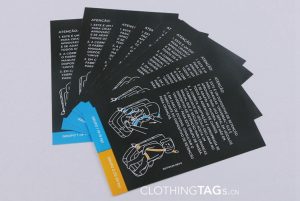 Tyvek Label Application and Design
Tyvek label can be applied in almost any field, law labels, care labels, adhesive labels, hang tags, jewelry tags, shipping tags, clothing labels, pricing labels, etc.
We have professional label designers who can provide you with free Tyvek label designs. There will be no extra charge.
Size: Tyvek label can be customized to any size, if you are not sure of the right size, please send us the logo or text, and we can provide advice.
Tyvek label can also be printed on both sides. You can print your logo on the front, care instructions, price, size and other information on the back.
We custom tyvek labels for global brands, including the United States, United Kingdom, Canada, Australia, South Africa, Dubai, etc.
We have comprehensive pre-sales and after-sales services. If you have any questions, you can contact us via email or WhatsApp, we provide one-to-one professional services. We will provide you with the best suggestions during the customization process, including size, color, material, font, design, etc.