All our metal labels can use custom strong 3M adhesive. You can paste it on smooth surfaces such as furniture, wine bottles or metal equipment. We provide metal labels of different materials: stainless steel, anodized aluminum, zinc alloy, copper, etc., they can match different brands accordingly.
Adhesive anodized aluminum metal labels
Choosing adhesive anodized aluminum metal labels, you can add special logos or texts on it, and no need to worry about finishes: matte, brushed or bright. The finishes are rust-free, scratch resistance, corrosion resistance, high or  low temperature resistance. Therefore, it is suitable for indoors or outdoors products.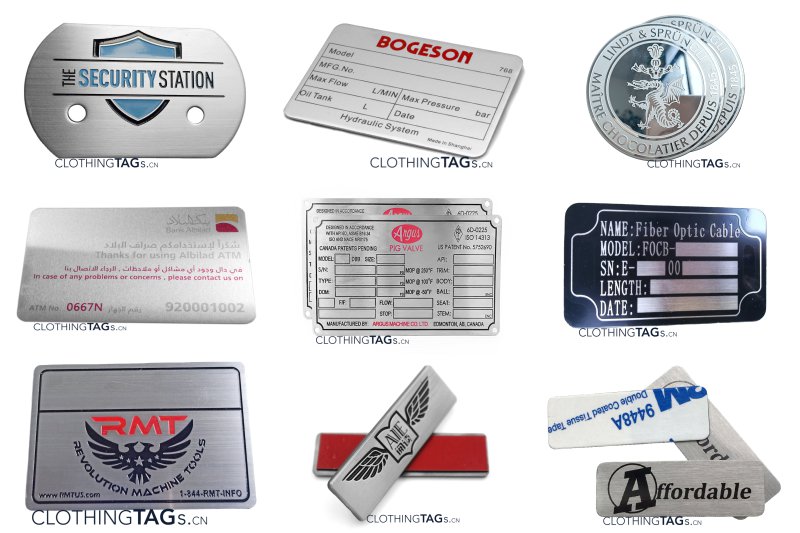 Because anodized aluminum is durable, so it is often used on such equipment surface which can play a long-lasting role in guiding, warning and marking.
Adhesive electroplated metal labels
The electroplated metal labels finishes look very luxury and qualified. It is often used in luxury goods such as wine bottles, furniture, and boutique boxes.
There are many colors of electroplating: gold, silver, gun metal, rose gold, brass, etc.
As wine bottles and other products cannot be fixed with holes, so labels should be installed with 3M adhesive.
Metal labels design
Regarding the metal tag shapes, size and artwork, you can send pictures to us for reference, we can provide free designs (we will provide 1:1 3d draft for some products).
You can choose various technologies for your logo: screen printing, engraved, embossed or epoxy filling.
We can customize any color for your logo or text, and our color is strong, will not fade for a long time.
Adhesive metal labels are not suitable for rough surfaces or in bad weather environments. In addition to adhesives technique, you can also choose other ways to fix the metal label, such as adding holes in labels for fixing; adding foldable legs backside of label
Details
Material: stainless steel, anodized aluminum, zinc alloy, copper
Metal finishes: matte, bright, brushed, epoxy
Logo technology: silk screen print, engraved, embossed or epoxy filling
In addition to metal labels, you can also custom ize metal-textured stickers. Stickers cost is lower, and feels thinner.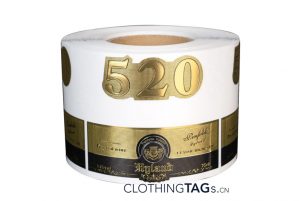 If you need to custom adhesive metal labels for your specific products, contact us via email or WhatsApp. We will provide one-to-one professional services to help you choose the best metal label style for you.