Woven labels and printed labels have their own characteristics. Can't one-sided say who is better, the suitable is the best.
Satin printed labels, cotton printed labels, or satin woven labels, damask woven labels, cotton woven labels. They have their own unique appearance style, and can all be made into main labels, care labels, and size labels.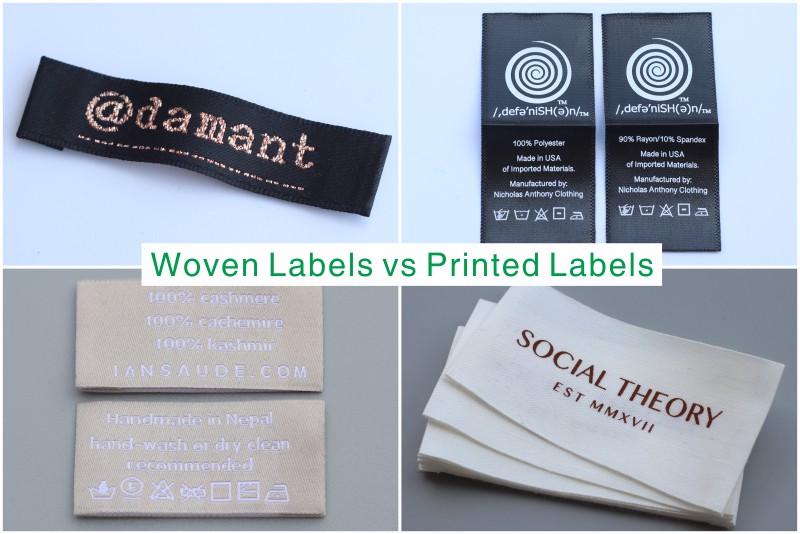 You can view our woven labels, printed labels and heat transfer labels. There are all the material styles in it.
How to choose woven and printed labels?
Combine the difference between woven vs printed labels, and our material styles, to choose the label that best suits you.
If your garment is a premium product, we recommend using woven labels. Its durability and quality feel can add a premium feel to your brand.
Of course, your clothing style may need to match the material of the printed label, for example, using a cotton printed label to match pure cotton clothing is also a good choice.
Difference Between Woven vs Printed Labels
Color Fastness
Our woven labels use high-quality yarns that will never fade. Therefore, compared with the printed labels, woven labels are more suitable for high-end products.
Our printed labels use the best eco-friendly inks, and even if it's the best, it will lighten in color over a long period of repeated washing.
Price
Woven labels are more expensive than printed labels. The price is about 30% more expensive, and it is also affected by quantity, size, etc.
If you need a detailed price, please contact us, we will quickly quote you.
Color
Woven labels can be weave in any color, but the quantity is limited, usually one or two logo colors, if you need more colors, the price will be higher.
Printed labels can be printed in any color, and satin can be printed in unlimited colors. But cotton is usually only printed in one or two colors.
Logo Appearance
Our woven labels can weave very small logos and patterns, and the gap with the printed label is almost negligible.
You just have to consider whether it is a woven label with a weave look or a printed label that is more like a digital design.
Material
Custom the labels that suits you
A successful brand's investment in labels cannot be ignored, measuring price, appearance and durability to choose the label that best suits you. You can contact us by email or WhatsApp, our rich experience can give you the best advice.
Labels are crucial for clothing, either way, we can do our best. Our labels mainly serve high-end brands. If you want to know more labels details, please check our Tags directory, which has the most professional and detailed introduction. We can add the most elegant finishing touch to your products, providing the most professional look. If you don't have a good idea, we can also provide free designs.