Add a soft rubber labels to your clothing to make your clothing brand stand out. Custom soft rubber, pvc, silicone labels can be applied to all types of products, including: clothing, swimwear, T-shirts, jackets, military uniforms, hats, shoes, bags, etc. Add sewing channel or Velcro, you can easily attach it wherever you want to show your logo. The rubber labels is made of multiple layers of colored rubber, which can add an amazing layering to your products.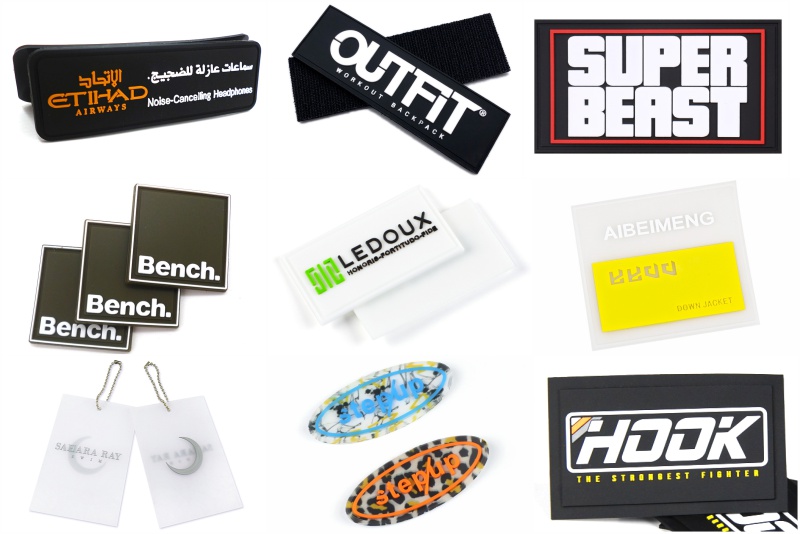 Learn more about rubber labels?
Contact us via email or WhatsApp, we provide one-to-one professional services. We will provide you with the best suggestions during the customization process, including size, sewing channel, material, design, etc.
As a rubber labels manufacturer and supplier, we can consistently manufacture products that meet your requirements. We have comprehensive pre-sales and after-sales services. If you have any questions, we will actively solve the problem for you.
Our MOQ is very low, you can send a request, and we will provide you with the best price and quality.
Details:
Material: The rubber labels are mainly made of pvc and silicone, both of which have good durability and will not fade or decompose.
PVC labels are more economical, and silicone labels are more upscale and comfortable.
Because the appearance is difficult to distinguish, economical pvc patches will be the most commonly used choice.
Size and shape: The rubber labels can be customized to any size and shape to match your product. If you don't have a good idea, we can also suggest a minimum size based on your logo.
Color: Using Pantone card, we can match your color more accurately. You can also choose a transparent color or a fluorescent color that glows in the dark.
Convex appearance: can be customized as 3D or 2D PVC patches.
Fixing method: add sewing channel, Velcro, self-adhesive
Design: Send your design, logo or sample image. We can also design any font according to the sample. (Choose the reference picture in our photo gallery, or sample pictures from other places)
In order to make your design more clear, we will provide a 1:1 3d rendering to confirm and improve the details with you. Make your artwork more perfect.

We provide custom rubber, PVC and silicone clothing labels for global brands. Including the USA, Australia, Canada, UK, France, South Africa, Saudi Arabia, etc.
In addition to rubber labels, we also provide more clothing tags and labels. If you have any questions, please contact us.