Custom best folding boxes for your brand. Folding boxes with lids, thin boxes, folding gift boxes, or folding corrugated boxes, you can customize any style, design, size, thickness, color, etc. If you need a new design, we provide one-on-one free design services to make your ideas come true easily.
Custom Different Types of Folding Boxes
Different types of folding boxes can meet different products and uses. With us, you can custom any box style, size, thickness and folding method as you like. For all folding boxes, we will recommend the best paper thickness based on your product and size, or customize the thickness you want.
Thin Boxes
Custom Foldable Boxes with Lids
Folding Rigid Gift Boxes
Folding Corrugated Boxes
Best Folding Boxes Manufacturer
As the best folding boxes manufacturer, we customize high-quality folding boxes at cheap prices with Low MOQ, meet the custom needs of large and small businesses. We only make high quality, and all our products are made from the highest quality environmentally friendly materials. We take every order seriously, no matter how big or small, ensuring the best quality and excellent service.
Contact us via Email or WhatsApp, we provide one-on-one customer service and can accurately custom the folding boxes you want. Just send your design, logo, size, color, thickness, quantity or reference pictures and other information, we will quickly reply and quote.
Free Design Folding Boxes
Give full play to your imagination, there is no limit to your ideas, we will send you detailed digital samples and 3D rendering to confirm and improve the details with you.
Just send your ideas, sketches, logo, colors, shapes, sizes and other information, and our professional design team will do the rest. We are very professional and will ensure that your ideas are presented 100%, helping you create a personalized folding box design and establish a unique brand image.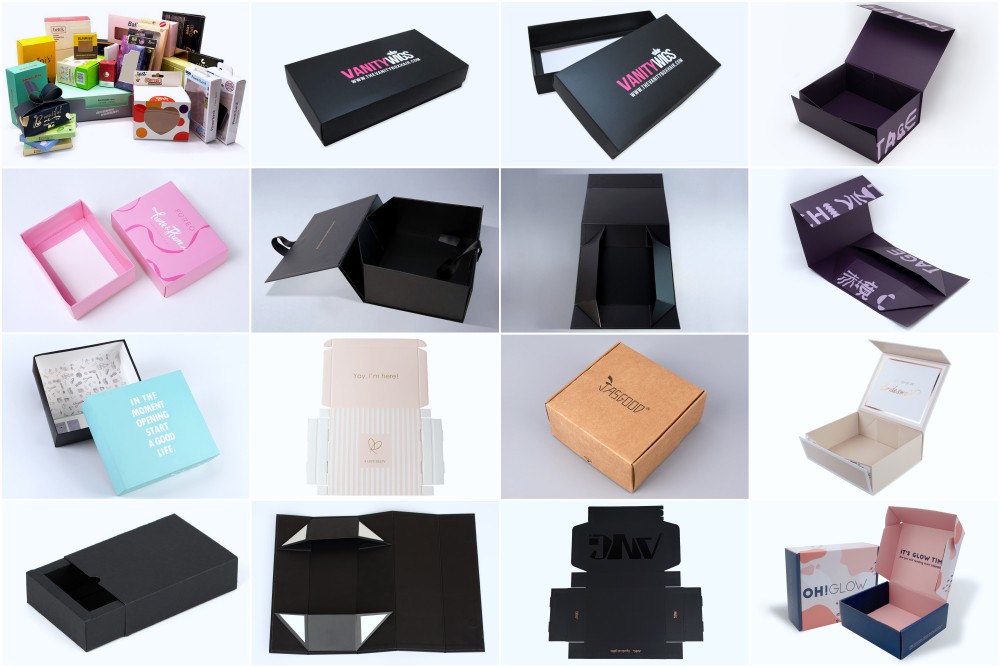 You can choose the most suitable folding box style from our Photo Gallery, or send pictures of other styles. Or tell us your needs and ideas, and we can recommend more folding box styles.
Why Custom Folding Boxes?
The biggest advantage of the folding boxes is that it is low cost and can be shipping and stored flat, which can save transportation costs and storage space. It is easy to assemble and used. Folding boxes are a very popular choice among brands, you can also choose from our other box types.
In addition we ship global, including the USA, California, United Kingdom, Canada, Australia, South Africa, Dubai, etc. We will send product pictures to you for confirmation before shipment.