Custom hang tag string is made of different types of materials. Such as cotton, polyester, leather, wax cotton, satin tape, flax, etc.. The hang tag string can make any color and length.
Match the appropriate hang tag string material with suitable finishing for your personal design.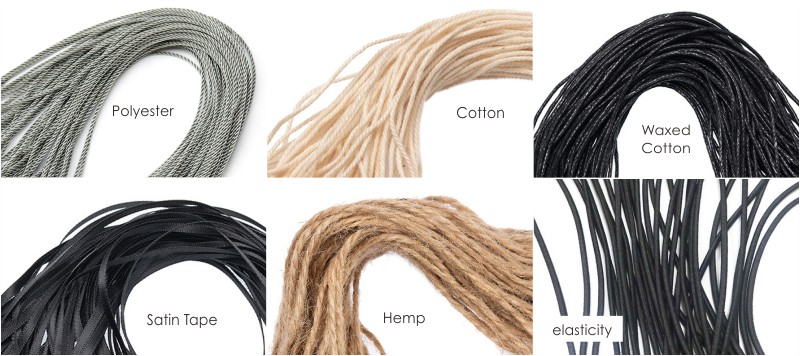 Natural cotton hang tag string
The cotton and flax hang tag string, they are natural plant material so there will be more or less impurities and fluff, and they also have color difference problem. The advantages are they look nature, so it fits some classic clothing styles like vantage clothing brand, or baby brands those clothing are mainly cotton fabric.

Elastic hang tag string
The elastic hang tag string uses elastic material, its length is stretchable, and it has high strength and durability. It is a very special hang tag string.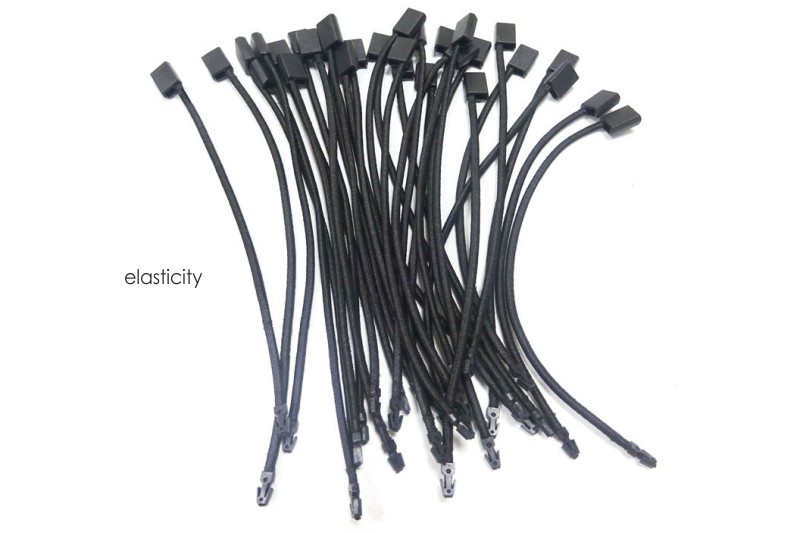 Polyester hang tag string
This hang tag string is the most widely used because of its rich colors, good color fastness, smooth, not easy to fluff, and economic price etc.
Satin and leather string
Leather and satin hang tag string, it looks very smooth, and a little bit shiny, so it expresses a luxury feeling, so it is very popular for some clothing like suits or shirts.
Wax rope
Wax rope is very similar to leather rope, which looks very smooth and luxurious in appearance. Its production process is waxing polyester or cotton rope.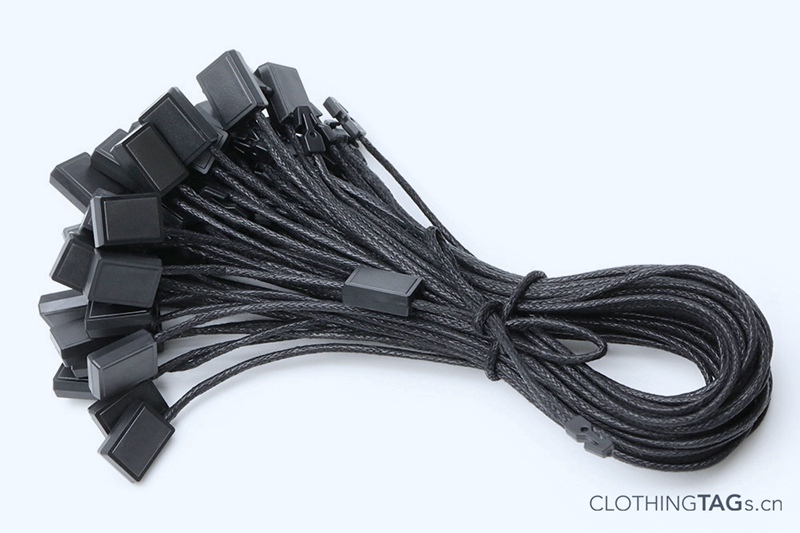 Some other string like metallic hang tag string. They are not so popular, but they often appears in some very featured clothing brands.
After choosing the hang tag string material, you can choose different types of hang tag string snap lock fastener: Hang tag string with logo or without logo, hang tag string with safety pin, etc.
As a hang tag string manufacturer and supplier, we can consistently manufacture products that meet your requirements. In addition to hang tag string, we also provide high-quality hang tags. We have comprehensive pre-sales and after-sales services. If you have any questions, you can contact us via email or WhatsApp, and we will actively solve the problem for you.