Custom wholesale zippers online for your products, we provide all zips options, including metal (copper and aluminum), plastic (resin and nylon), invisible waterproof and more. You can customize any size model, length, color, end-type and zipper pulls.
Zipper Types

Separation Opening
Generally used for coats, jackets, etc., products that need to separate openings.

Closed Bottom
It is mainly used for trousers, tents, dresses, etc., which need to open at the top and close the bottom products.

Separation Opening at Both End
Mainly used for longer and heavy jackets, coats, etc. Top and bottom clothing openings allow for leg room while driving a car or squatting. And the opening can be separation like a normal jacket.

Coveralls
Mainly used for coveralls and overalls.

Double Sliders Closed at Both Ends
Mainly used for camera bags, luggage, etc., the longer both ends close zippers. Two sliders can ensure easy and quick opening.

Single Slider Closed at Both Ends
Mainly used for purses, pockets, etc., the shorter both ends close zippers.
We provide a wealth of zipper options, can be installed for you for free, saving you a lot of time. Light, medium or heavy zipper? Copper, Aluminum, Plastic or Invisible Waterproof? Large size or small size? And customized into any color you want, we can do everything you need. We've made sure they're strong enough so you don't have to worry about them breaking or stuck.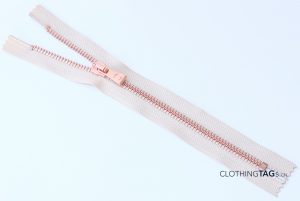 Custom Metal Zippers
Copper and aluminum are super strong, you can use them for heavy clothing, jeans, tents, bags and more.
Choose the zipper material and style you need from our zippers gallery and choose any end type.
Match Zipper Pulls
Match the right slider for your zipper, you can custom zipper puller with logo, or contact us to get our zipper puller stock (including ykk), they will all be strong and durable.
Designer zipper pulls are our popular option, you are free to be creative and we will make it easy to bring your ideas to life.
Best zippers supplier and manufacturer
As a zippers supplier and manufacturer, we provide quality zips at competitive prices with no minimums, and can meet the customization needs of both small businesses and large corporations.
Contact us by Email or WhatsApp, we provide one-to-one professional service, and can accurately custom the zippers you need. Just send the information you need, such as usage, material, size, End-Type or reference pictures. We will reply you quickly and quote. If you are not sure about the type of zipper you need, we will provide the most professional advice. We will provide detailed digital samples to you before production for confirmation.
Our zippers serve global brands, excellent service and quality can save your time and cost.