Custom high-quality hang tags with logo for your sneaker, vans shoes, tennis shoes, etc.
To make your shoe store, brand impressive, customizing a unique hang tag is crucial. A high-quality shoe hang tags can make your shoes more upscale.
Choose the best hang tag material to match your shoes. Paper, plastic, metal, or clear acrylic? Everything you want, we can do it. All of our hang tag materials can be custom logo to make your brand stand out.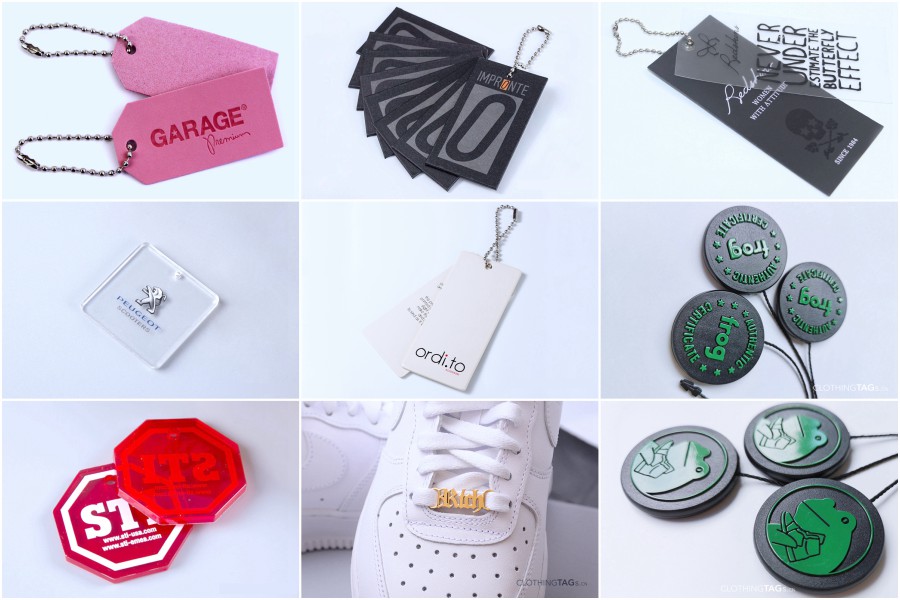 Shoes Paper Hang Tags
Paper hang tags are the most commonly used, a simple and textured paper that can create countless fun shoe tags. We provide a rich of paper materials and you can create any style of design.
Custom Plastic Shoe Hang Tags
The plastic hang tag string is very elegant, you can customize any color according to the Pantone card.
If you need a unique design, we can help.
Custom Acrylic Sneaker Hang Tags
The clear acrylic hang tags is a very unique design, it is very suitable for sneaker. Printing on a transparent finish can make your brand logo more eye-catching. You can also create different transparent colors.
Custom Shoe Lace Charms
We also offer shoe lace charms in different materials: metal labels, leather, rubber, etc. Metal shoe lace charms are the most commonly used, and you can choose from different color finishes to add a shiny and luxurious look to your shoes.
As a shoes tags manufacturer and supplier, we manufacture and design high quality shoe hang tags with logo that can consistently manufacture products that meet your requirements. We will give you the best advice during the customization process, including size, color, material, font, design, etc. If you don't have a design, we can provide one-to-one free design service.
Check out our Tags content to find the best materials and ideas you want.
We have comprehensive pre-sales and after-sales services. If you have any questions, you can contact us via email or WhatsApp, we provide one-to-one professional services.
Besides, we custom shoes hang tags for global brands, such as the USA, Australia, Canada, UK, France, South Africa, Saudi Arabia, New Zealand, Ireland, etc.