Custom high-quality personalized care labels to add professional washing and care instructions to your clothing, jeans, T-shirts, swimwear, quilts and other products.
From design to delivery, we can consistently manufacture products that meet your requirements. Also we provide high quality, low price, and low minimum quantity orders.
Our personalized care label options
Printed fabric labels of satin, cotton, Tyvek, woven, TPU and other materials are available. Thus, you can make unique care labels from multiple material. In spite of using as care labels, these material can also use as main labels, size labels etc.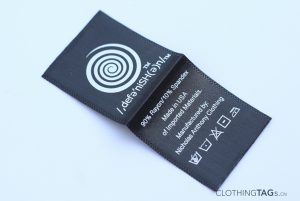 Satin
Satin care labels are the most commonly used care labels because its smooth surface makes the color more durable. And it is cheap, very soft to touch, and will not irritate the skin.
We use high quality satin material.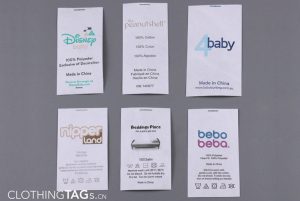 Tyvek labels with a paper-like texture are not only waterproof, but also have excellent durability.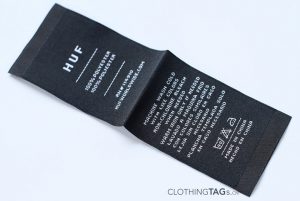 Woven
Woven care labels will be more high-quality and more durable, the price will be higher.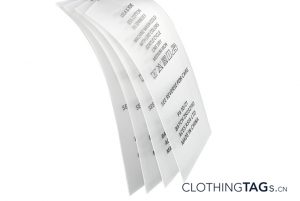 TPU
Clear TPU labels, usually used in swimwear.
Professional creation of care label
If you need to design, we have professional designers to provide one-to-one design help, allowing you to easily customize every perfect care label project.
You can create freely. Any fonts and unique ideas can become reality. Just send us the brand name, care instructions, fabric composition and other text, or reference pictures or font name. Please contact us and tell us what you think.
Care labels function
The main function of the care labels on clothes is to guide users to wash and maintain their clothing correctly. So it can prevent clothing from being damaged by wrong washing methods. it is usually sewn in the back collar, or under or next to the main label; or sewn in the back waist, or at the side seam position; sometimes also sewn on the cuffs.
Care labels content
Brand logo and website, which can promote your brand while maintaining the clothes.
Composition of clothing fabrics
Example: acrylic, cotton, elastane, linen, nylon, neoprene, polyester, rayon, rayon from bamboo, spandex, silk, viscose, wool
Wash symbols and meaning: such as dry cleaning/machine; washing/hand washing; washing temperature; whether it can be bleached; drying method; ironing temperature requirements, etc.
Size
Designed in and Made in
Best care labels manufacturer
As the best care labels manufacturer and supplier, our professional team can provide professional advice and comprehensive pre-sales and after-sales services. We custom care labels for global brands, including USA, Australia, Spanish, Canada, UK, France, South Africa, Saudi Arabia, Pakistan, Dubai, Cape Town, Karachi, etc.
We guarantee printing quality and durability. If you have any questions, you can contact us via Email or WhatsApp to get the best price.