Custom rustic brown kraft paper hang tags to give your products a unique retro look. Print a unique logo and customize it to any suitable size to make your branded products stand out.
Thin tag (can be bent) or thicker card? (almost impossible to bend), rectangular, square, round, or die cut to any shape. As a Kraft hang tags manufacturer and supplier, we can consistently manufacture products that meet your requirements.
Real Custom Kraft Hang Tags
Send your design work, or design request, custom design professional kraft hang tags.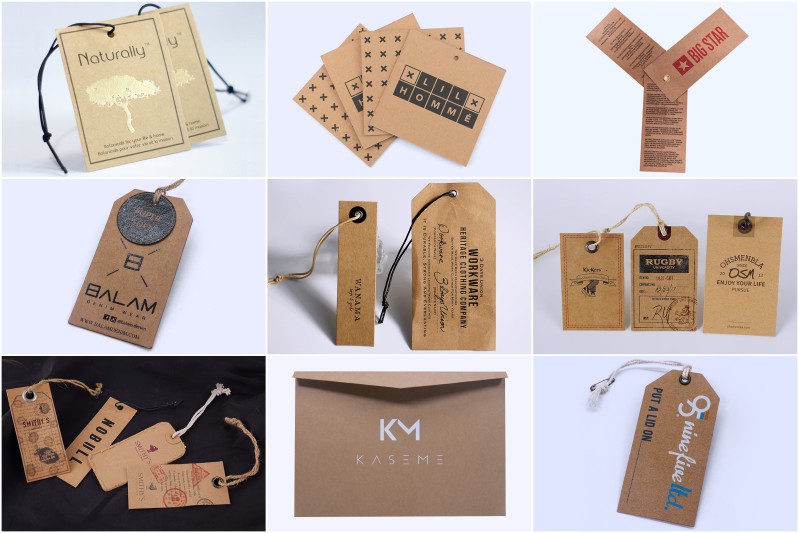 We have an experienced team and professional printing technology, we can customize the size and thickness of kraft paper hang tags, and can also provide you with professional advice. We pay great attention to details and take every outstanding hang tag design seriously.
Need a new design?
You don't need to download any boring templates or software, just send your logo or text or reference pictures and other information. We have a professional design team, provide one-to-one free design. No need for any additional fee to create a professional hang tag look for you. We take every project big and small seriously, making it easy for you to bring your ideas and creativity to life.
100% biodegradable kraft paper hang tags, elegant and eco-friendly. It is widely used in gift packaging, insert, jewelry, jeans and other brand products. Our Kraft hang tags is cheap and highly productive. It can save your business time and money. The Kraft hang tags has a rustic feeling, color is retro natural brown. What is more, we have professional printing technology to match with brown Kraft hang tags. So it can perfectly express your logo and message. You can also choose other types of paper hang tags.
Print Impressive Kraft Hang Tags
Print a special logo, slogan, message or signature to personalize your own style of kraft hang tags.
The custom Kraft hang tags has a unique color and design style. It generally uses single-color and two-color printing, CMYK colors can also be used, and high-end embossed logos and foil logo can also be used. Since the background color of Kraft paper is brown, the printing effect is different from that on white paper, so it is better to use brighter and more eye-catching colors, such as black, white, blue, red, etc.
The black or white logo are often printed on Kraft hang tags, because it is a match made in heaven , and it is one of the simple and popular designs. Silk-screen printing kraft hang tags, the ink will be thicker, and color of the logo is more prominent, especially the white color will be more eye-catching.
Get inspiration from the stunning embossed logo. Why the embossed logo is more attractive? because the embossing can transform simple printing to 3D effect, so that Kraft hang tags becomes luxurious works.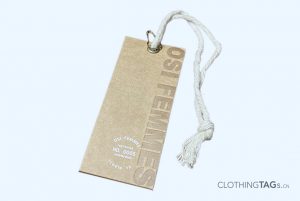 Add a shiny foil logo to personalized the kraft hang tags, it can make your product stand out. You can add luxurious gold, silver, green, etc.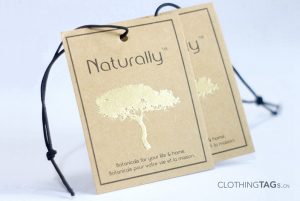 Some other ways to personalize your perfect hang tag, you can also choose different hang tag string and metal grommets (gold, silver, bronze or black). We offer a wide range of hang tag string and metal eyelet to match your kraft tag design. Allows you to easily link tags and products.
Regarding thickness, we recommend the two most commonly used thicknesses, 0.5mm (thin tag, can be bent) 1mm (thicker card, almost impossible to bend). Of course, you can also choose other thicker thicknesses, such as 1.5mm, 2mm, 3mm, etc.
We have professional pre-sales and after-sales services. If you have any questions, you can contact us via email or WhatsApp, we provide one-to-one professional services. We will provide you with the best suggestions during the customization process, including size, color, material, font, design, etc.
Besides, we custom hang tags for global brands, including the USA, Australia, Canada, UK, France, South Africa, Saudi Arabia, New Zealand, Ireland, etc.