Custom leather zipper pulls in different leather materials for your jackets, purses, clothing and more. Foil, embossed, engraved or silk screen print your logo to make your brand stand out.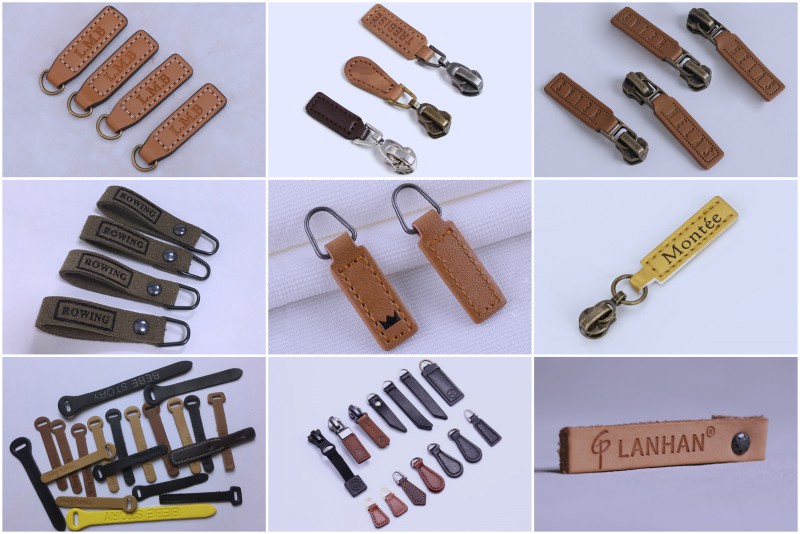 Custom Faux Or Genuine Leather Zipper Pulls?
You can use any color and texture of leather. Even special gold and silver. Choose the desired color texture from our gallery, or leather picture from elsewhere.
Besides color, you can choose any structure and shape of leather zipper puller, including different shapes of leather, different shapes of metal rings and different styles of metal sliders.
Contact us and tell us your idea, we can custom design any style according to your needs, or send you more samples for reference.
Detail:
Material: faux leather (PU leather, suede leather, holographic leather), genuine leather (pig leather, cattle leather, crocodile leather), etc.
Metal Rings and Sliders: gold, silver, copper, ancient brass, rose gold, gun metal, nickel etc., (both glossy and matte)
Logo technology: embossed leather patch, silk screen print, engraved logo, embroidery logo etc. (can also attach metal labels to the leather labels)
Size and shape: customized according to your needs
Color: choose from our color chart
Quantity: no minimum
Production time: 7-15 working days
Zippers
We also provide a wealth of zipper options, we can install slider on zipper for you freely, saving you a lot of time.

Material: metal, resin, nylon, invisible and waterproof zipper, etc.
Size: #3, #5, #8, #10, #15, etc.
Color: Customize any color according to your needs
Length: Customized according to your needs.
Please tell us the zipper size before customizing the zipper puller.
If you need a unique leather zipper puller or metal zipper pulls to match your product, please let us know and we can consistently manufacture products that meet your requirements.
Besides, we custom zipper puller for global brands, including the USA, Australia, Canada, UK, France, South Africa, Saudi Arabia, New Zealand, Ireland, etc.
Our zipper puller MOQ is small, so it is good for small business.
We have professional pre-sales and after-sales services. If you have any questions, you can contact us via email or WhatsApp, we provide one-to-one professional services. We will provide you with the best suggestions during the customization process, including size, color, material, font, design, etc.