Gold metal name badges are the most commonly used metal badges. Most companies choose gold plated name tags, because it can match the clothing perfectly. Especially black formal wear, gold name tags and black formal wear can blend together well. The shiny gold can make the brand logo, or name, more prominent. Of course, you can also choose to customize metal badges in other colors. Such as silver, bronze, black, etc.
Hotel clerk, jeweler or real estate agent? Safety pin or magnetic back?
Metal Name Badges
Custom the gold metal name badges for your company. Choose different attachment methods (magnetic and pin back). Its logo can be an engraved name tags (concave or raised) or a printed metal tags (flat logo).
You can also add texture (brushed)
Personalized metal tags shape (trapezoid, square, round, bevel, or unique logo shape)
Size: The metal tags can be customized in any size, and we can customize a very small size, on the basis of ensuring a clear logo. (We can provide professional advice)
We use permanent printing technology and can print in any color.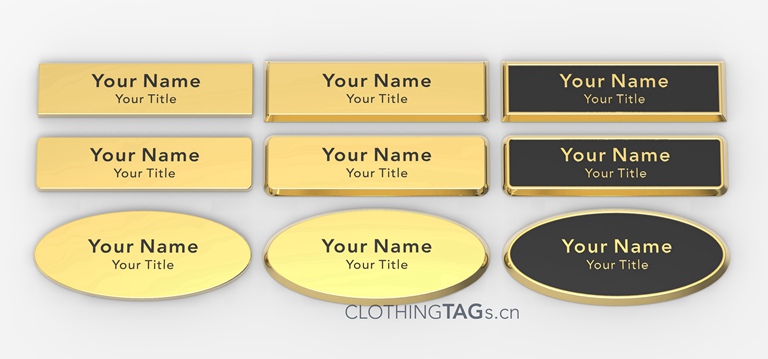 Gold Plated Name Tags
Custom metal name plates generally use copper, aluminum, zinc alloy and other materials, because they will not rust, and are durable, corrosion-resistant, and scratch-resistant. Gold plated name tags has a very smooth and bright surface with bright colors. Of course, you can also choose a matte surface. It also has a higher hardness and will look more high-end.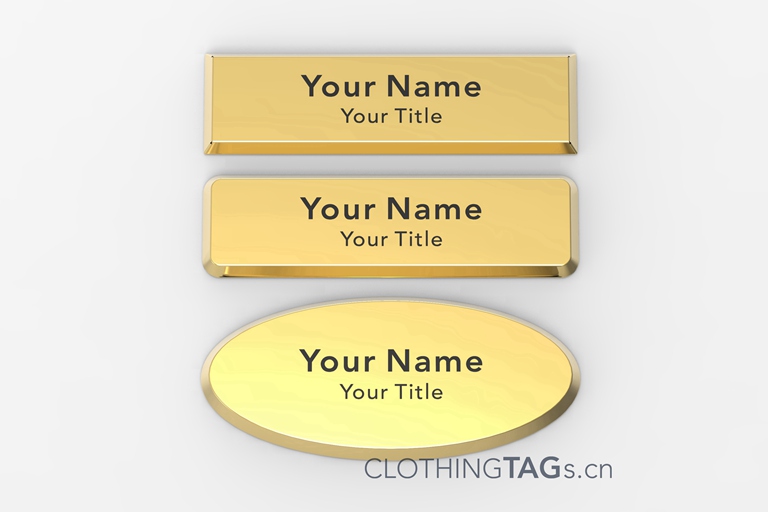 There are also precious metal necklaces, metal jewelry, etc., covered with 14k gold and 925 silver.
Contact us to get a personalized gold metal name badges to shape your brand and make your brand more attractive.
If our website pictures do not have the style you want, you can send us an email to get more picture options and free samples, and you can also provide your ideas and company logo, name, title and other information. We can design according to your requirements. (We provide free design service)