Custom woven sewing labels for your craft, handmade, clothing and more brands, easily sew on your personalized name logo.
You have variety options for creating unique woven sew in labels: Damask Woven Labels, Selvage Woven Labels (Satin Woven Labels, Organic Cotton Woven Labels, etc.).
You can find more creative inspiration from our website. Whether it's woven labels, printed fabric labels, embroidered labels, or iron-on woven labels, we can create flawless labels with high quality.
Our labels are widely used by various brands, whether it is clothing, hats, or crafts. High quality, low MOQ and competitive prices, suitable for businesses of all sizes.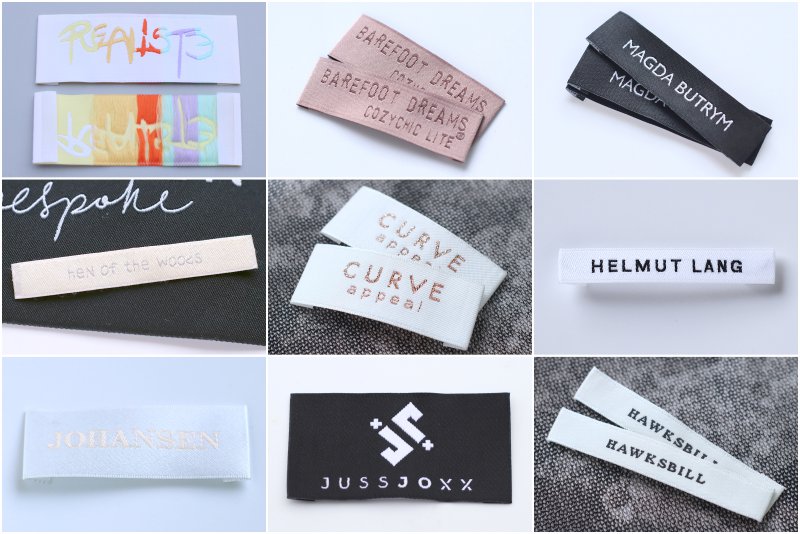 Custom Woven Sewing Labels
You can custom sewing labels in any color, size, font and fold.
Contact us by Email or WhatsApp, we provide one-on-one professional service. Just send your name logo, design, size, or reference pictures and other information, we will quote quickly.
If you need a new design, you don't need to download boring templates or software, we have professional designers to provide free designs, support all fonts, styles, etc. If you have any questions, our business will respond quickly.
Other Services
From design to production to delivery, we can complete every step perfectly. We will produce after you confirm the design, and after the production is completed, we will take photos for you to confirm and then ship.
Our production time is 7-12 days and shipping time is 4-7 days.
If you need to see the real labels, we can provide a free sample pack.
Personalized Woven Sew in Labels
Personalized woven sew in labels can make your brand stand out. Can make your products refined and impressive. There are countless ideas to create your own branding project. Such as an unforgettable collision of materials, and a unique design that stands out from the competition.
Browse our website, if you have the material, picture, style, etc. you want, just send it to us, we will create your own professional labels for you.
Our selection is very wide, satin or cotton, iron or sewing, even metal, leather and more. We have everything you need. Our one-on-one service can ensure accurate production according to your specific requirements.