We customize various types of printed packaging boxes with logo, which mainly used for packaging shoes, bags, clothing, gifts and other products.
We can print logos or images in various colors according to your needs. If your logo is just a  jpg, we can convert them into vector graphics, so that the logo will print clearly. In addition to logo printing, we can add texture on box surface.
You can choose different paper of different thickness, and can also choose different folding ways.
You can also decorate box with ribbons, labels or wrapping paper, etc., or add lining inside. These products can also be personalized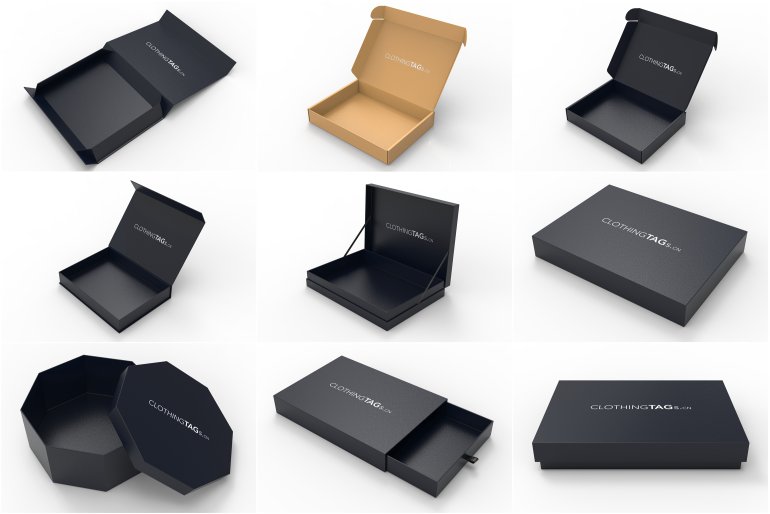 Our packaging box is of good quality with accurate size, you can customize various shapes and sizes (rectangular, square, polygonal, cylindrical, etc.).
With high-quality paper, professional advice and design assistance, we can customize high-quality packaging boxes according to your design or ideas.
If you want a personalized box, please send us the details of the box: size, material, color, technique etc. (Also send samples or pictures if you have).
Our box can be foldable or with cover and lid, besides, strong magnetic can be added to make the box open and close repeatedly. All in all, our boxes are very durable and can be reused for a long time.
Size: according to your needs (if you not know, please provide size of your packaged items).
Material: corrugated paper, gray board, Kraft paper, special paper, black card, white card, art paper, etc.
Color: according to your needs.
Technique: hot stamping gold or silver, film matte or bright, UV, reverse UV, frosted, emboss or deboss etc.
Others: ribbons, wrapping paper, stickers, etc.
Lining: EVA, sponge, paper, velvet, satin cloth, etc.