Check out our personalized sewing labels options to custom and design unique woven and printed labels for your clothes, crafts, quilts, handmade items, and more.
Find the best options you want from a variety of labels to add the finishing touch to your artwork.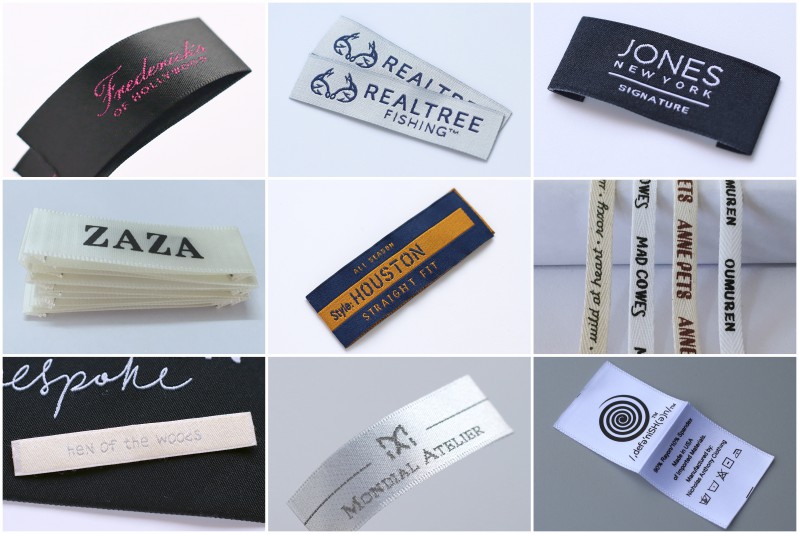 Woven and Printed Sewing Labels
Personalized sewing labels are essential when you design and make your own branded apparel. It can promote your brand, and provide professional touch-ups.
You can custom sewing labels in any size, color and fold types. And easily sew in it onto your product using a sewing machine or by hand. Woven or printed, smooth satin or matte damask, small or large quantities, everything you need, we can do it.
Large selection of high quality sewing labels: Damask woven labels, satin woven labels, printed fabric labels, care labels, or ribbons, etc.
The damask woven labels are made using true high density 50 denier thread and can display tiny logo details for a high definition permanent finish.
The satin woven labels has a shiny look, is silky and never fades, the logo is slightly raised, and the edges have a nice selvedge.
Printed fabric labels can use a variety of materials, satin, cotton, Tyvek, etc. It is slightly less robust than woven labels, but it is cheaper.
Contact us via email or WhatsApp, send your logo, text, or design, or sample pictures and other information to easily create your own sewing labels. If you don't have a logo or design, we provide free design help.
For t-shirts, quilt labels, laundry labels, or bags? We will reserve a suitable sewing position for the label.
Find the right labels for your project from our Tags catalog or Gallery. Be bold personalize your own sewing tags.
Best Sew In Labels Manufacturer
You can view some of the labels we produce in our gallery and you will find that we have superb weaving and printing technology. Match the best quality labels to your artwork.
Weave or print your logo on our sewing labels and be sure to add a stunning, eye-catching labels to your projects.