Custom design cheap and high quality hang tags for your products. Print your logo, picture or design, customize any size, thickness, shape and color.
Just send your logo, text, size, or sample pictures via email or WhatsApp, we will quickly quote you.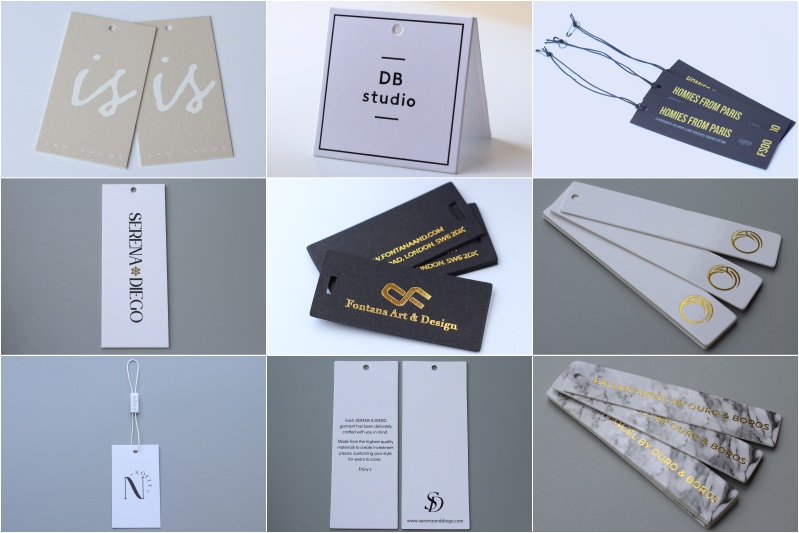 Buy Best Product Hang Tags
When customers buy products, custom retail hang tags can play a good brand effect, it can make your product packaging exquisite and unique, make the product stand out on the shelf and leave a deep impression.
Our high-quality hang tags can make your customers more willing to know about your products. We use high-quality materials and superb printing technology to clearly print your logo, pictures, care content, etc.
Whether it is 100PCS or 10000PCS, we can meet your needs and have the best price/performance ratio.
Our product hang tags can be customized in any color, size, material, big or small, matte or glossy, thick or thin paper, even clear plastic, your creativity will be limitless.
Matte white and black cards, or high-grade glossy hang tags, can be used in different thicknesses to match your products, 0.5mm, 1mm, 1.8mm, etc. (Default is 1mm). You can print your logo and product information on one or both sides.
Check out our Tags directory to learn more about our hang tags.
Product Tags With String
Custom product tags with string, can add the best branded business cards to your products. You can match any style of hang tag string and attach them easily to different products, such as bottles, jewelry, bags, clothing, gifts, etc. At the same time make your product hanger tags more delicate.
Design Product Tag For Free
Want to create a new professional hang tag design for your product? If you don't have a design, no need to download boring templates and software, we have professional designers to provide you with free design services to create professional product hanging tags for you.
If you have your product ready, you can get any tag idea you want from us. We can create elegant product swing tags for any of your projects.