Custom designed professional hang tags for your shirts, t-shirt. Create high-quality brand card, using the best materials and thicknesses, to display your logo, size, price, care instructions, and more. With the best price and quality, we can design and produce any style of hangtag you want to ensure your hangtag project is the perfect one.
Your unique shirt needs a personalised hang tags to match it, from us you can create the best matching tag. We will complete your hang tag project exactly as you wish, smooth, matte or high gloss, or full color printing in any color. We use the best card thickness, and environmentally friendly inks, to show your customers the best quality brand story.
Send your logo, design and other information via email or watchapp to customize any size, shape, thickness, material, hang tag string and eyelet, etc. Our durable materials can elevate your t-shirts.
Material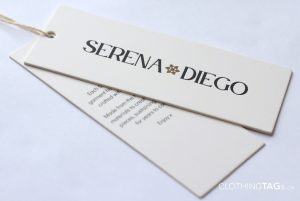 Off White T Shirt Hang Tag
The glossy coated paper hang tag is perfect for t-shirts, it's off white on snow-white printer paper. Great with off-white cotton or polyester hang tag string.
How to put hang tags on shirts
The hang tags is usually put on the neck of the shirt, because it is the most conspicuous position to display the brand card, and it can also hide the tag well without affecting the appearance of your shirt. The tag can be displayed even after the shirt is folded.
To connect your hang tags and shirts, we suggest two of the most stylish ways.
Option1: Custom the hang tag string with logo, and fix the tag and shirt by connecting the woven labels. This is the most upscale way, you can check our rich hang tag string options and woven labels options.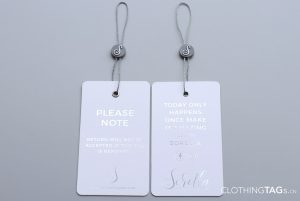 Option2: Hang tag string and safety pin without logo, it is low cost, but very fashionable. It can be fixed to any position of the shirt through the safety pin. And it is very easy to disassemble.
T Shirt Hang Tag Design
Want a new t shirt hang tag design? You don't need to download boring templates or software. We have professional designers to provide one-to-one free design.
When you have an idea and creative you like, we will take care of the rest, making it easy for you to create your favorite hang tag.
Just send your ideas, logo, website, product details, reference pictures and other information by email or watchapp. We will send you the detailed design, and work with you to confirm and improve the customization details.