The neck labels is also called the main labels, it can add a unique brand name logo to your clothing, t-shirts, etc. heat transfer tagless labels, woven labels, or printed fabric labels.
We offer top back neck labels quality and service at competitive prices. You don't need to download boring template and software, we offer a free design service, and no minimum.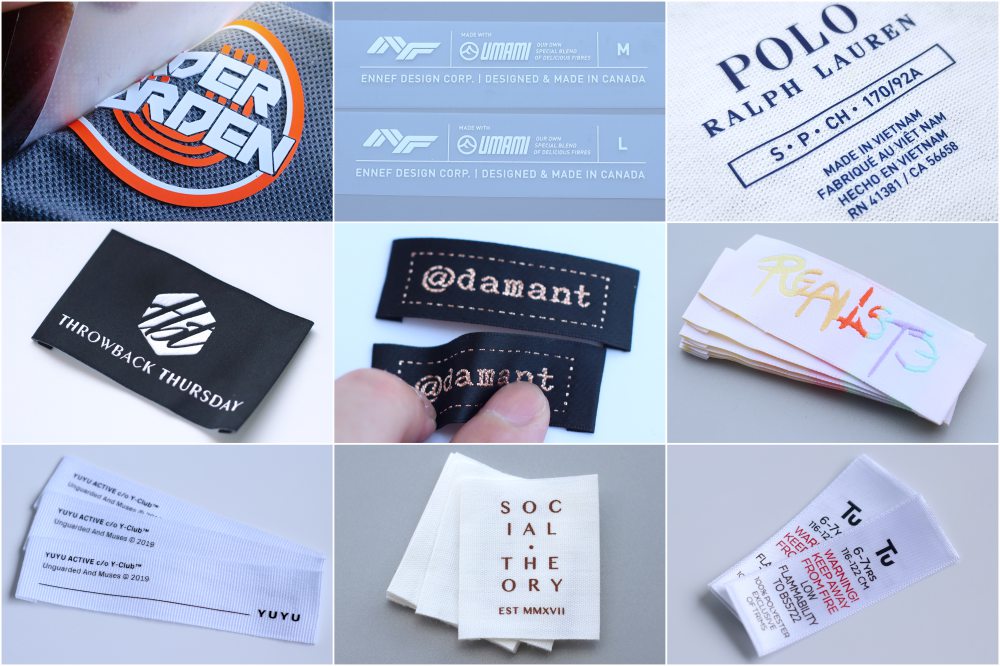 Heat Transfer Tagless Neck Labels
Heat transfer labels are the most cost-effective neck labels. It requires no sewing, just a heat press or a household iron to easily complete your t-shirt projects.
Our screen printed transfer logos, using the best heat transfer adhesives, can adapt to most fabrics, be it hats, polyester fabrics, cotton fabrics, linen, or felt fabrics, etc.
You can also customize 3D Silicone heat transfer labels for your garments, if you need to test, we can send you free samples.
Woven Main Neck Labels
The woven neck labels is the high-end main labels, and the material and logo woven density determines its quality.
Our machines can produce high quality woven neck labels for big brands. Whether it's a hundred or tens of thousands, we can do the best quality.
Damask woven labels, Satin woven labels, or Cotton woven labels, we provide a wealth of woven label options. So that you can better match your personalized clothing.
Printed Fabric Labels
Printed fabric labels are the most material-rich back neck labels, mainly divided into satin, cotton, grosgrain, twill, etc.
The glossy satin can be printed in rich colors. The unique cotton material has natural cotton fibers for great comfort. Grosgrain and twill, among others, have unique fabric textures.
Custom Best Neck Labels
Custom best neck labels, Complete every step from design to production to delivery.
Contact us via Email or WhatsApp, we provide one-to-one professional service, we will provide you with the best advice during the customization process. You can customize neck labels in any color, size, and material, we ensure the best quality.
If you need a new design, just send your name logo, text, size, care content, reference pictures and other information. Our professional designers will create the most professional neck labels for you.
We will produce it after you confirm the design, and take pictures for you to confirm before delivery.
In addition to custom main neck labels, we also provide hang tags, metal tags, zippers, patches, packaging, etc. You can learn more about labels from our Tags catalog.